The good, the great, and the even better.
I always read a lot outside of the books I pick for particular challenges, and my reading challenge updates always ramble on into what I've been writing as well. It could be worse, I could ramble on about all the movies and TV shows I've seen as well… 😀
Never Let Me Go by Kazuo Ishiguro devastated me–so much so, that I hesitated to pick up When We Were Orphans for about five years. I didn't want to spend another two weeks sniveling into my hankie and generally embarrassing myself.
While the narrative voice of When We Were Orphans is familiar, the story is very different. It's still emotionally charged, and the revelations are…sad. No other word for it. What really struck me, will stick with me, though, is Christopher's naivete. A good portion of the story is recollections from his childhood and even as he pokes through his memories, his view of them is clouded by what he thought and perceived as a child.
This makes Christopher a somewhat unreliable narrator, which is a hallmark of Ishiguro's fiction. His truths are coloured by his emotions and ambitions, and while he can be self-deprecating, just as often he's simply human. It's in these moments the novel shines. I envy Ishiguro's ability to write this way, to offer these imperfect memories, and to build the story of a man whose life is shaped by just such.
Way of the Wolf by E.E. Knight has a really cool setting. I picked it up because it's post apocalyptic and the idea of alien vampires intrigued me. The actual story is much more interesting. There is a system of gates that connect parallel universes. It takes an incredible amount of power to open and use these gates, and to maintain the longevity of the beings who are using them. So, the Kurians are lifesforce vampires rather than bloodsuckers, but have absolutely no problems with draining a human of just about everything that makes them tick. Yeah, there's some gruesome stuff here.
The Kurians are the new overlords of Earth, hence the subtitle: Vampire Earth. Humanity is either subjugated or living in small pockets of rebellion. One of these rebellious factions has access to gifts from another alien species that is like the Kurians, but not evil. They teach the Way of the Wolf, Cat and Bear to humans who have the mental and physical stamina to adapt.
The story starts out slowly with an extended introduction to David Valentine and his world. I didn't mind the pace, though, as I found the world fascinating and David is easy to like. The plot really picks up at the two thirds mark with the last quarter of the book passing in a blur. I will be reading on. I already have the next two books on the shelf.
Random Favourites
Seeing as I didn't read a lot from my challenge list over the last few months, here are a couple of random reviews of books I really enjoyed:
It's been a long time since I read past my bedtime – which is, admittedly, early. But I'm old, and that's one of the things that drew me to this book, the age of the characters in the second part. There is not enough romantic fiction about older couples. The other thing that drew me to this book was the premise. The thirty second love affair, as Andy puts it. Who hasn't met the eyes of a stranger and wondered 'what if'?
I enjoyed the elaborate 'what if' scenarios in this book as much as I did the actual story of Andy and Carlos. I loved the pushmi-pullyu reference. It was apt in the beginning and throughout the ebb and flow of the guys' lives. More, I loved that Andy and Carlos had to take such a journey before reconnecting, and that that was the focus of the story.
Finally, the afterword: I already knew the facts as I'd discovered this book through a blog tour where Rick Reed shared his inspiration for Blink. And that story was the reason I picked this one up. 🙂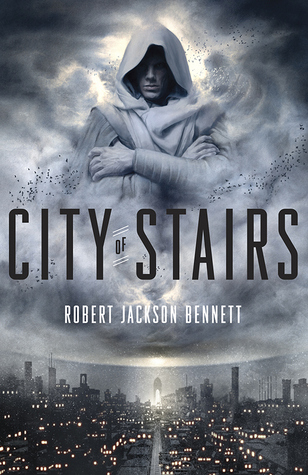 City of Stairs by Robert Jackson Bennett
Long, but ultimately worth it. The world building is phenomenal.
I listened to City of Stairs on audio and it was one of those rare treats. New SF and Fantasy titles don't show up on the library's list very often. It's even more rare for a book on my wishlist to show up, so I fell all over this one–and then listened obsessively for days until it was done.
I loved the world. If I hadn't listened on audio, I might have been tempted to skim some of the description, history and world building because there is a lot. Most of it's relevant and it didn't really feel like the author showing off all his research, particularly as it's Shara's business to know all of this stuff.  I really enjoyed Shara as a point of view character. I also enjoyed the glimpses we had of others. My favourite? Sigrud. And I did not begrudge a single minute of his history. His story was worth a novel all it's own, and adds so much depth and substance to this book.
A highly recommended read!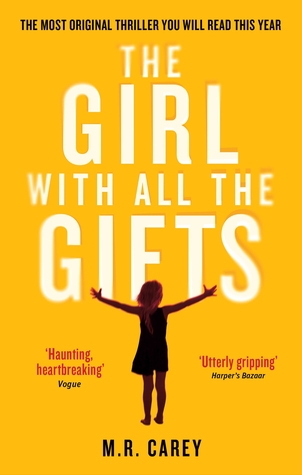 The Girl with All the Gifts by M.R. Carey
My Goodreads review:
Holy @#$%. Just…WOW. This book really crept up on me, and then refused to let go. Feeling kinda wrecked.

Excellent. Deserves all the stars.
Really, there's not a lot more I can say without spoiling the magic of this book, except to tell you to keep going. It starts out a little slow and the plot is quite obscure, but OMG, the ending. I cried–and I can't even really tell you why. But, like Never Let Me Go, I carried this story next to my soul for weeks afterward and I can still feel the wrench of emotion. I really, really hope M.R. Carey writes another novel. Soon.
Bloody Jack: Being an Account of the Curious Adventures of Mary "Jacky" Faber, Ship's Boy by L.A. Meyer
This was an Audible daily deal and I bought it with the intention of passing it to my daughter. Then I saw a couple of reviews and decided to try it for myself. I ADORED this book. Not only was Jacky's voice absolutely charming, but the narrator did a wonderful job of bringing her to life, accent and all. The story is equally engaging, being the tale of an orphan who goes to sea pretending to be a ship's boy. As she matures, it becomes more and more difficult for her to hide her gender, leading to many sweet and not so sweet moments. Meyer perfectly captures adolescence and I loved the boys. I also really loved the inside look at life aboard one of the King's ships and the excitement of chasing pirates, neither of which was diluted or dumbed down for a younger audience.
If I pick up the sequel, it will definitely be on audio!
View all my reviews on Goodreads.
Writing
I've had three books published since my last update. I blogged about each one, but I'm going to show them off again here as they represent a lot of hard work. Covers link to the relevant posts.
In addition, Jenn and I finalized Skip Trace (Book three of Chaos Station), as in it's fully edited, copy edited and proofread. It's due out in October. We're hoping to put out a short story between now and then. We've also finished the first draft of Inversion Point (Book four of Chaos Station). I think this one was the hardest yet to write. We've learned so much writing the first three, through simply writing a series and being edited so competently (and thoroughly) by our editor at Carina Press. So we put a lot into constructing book four. That leaves one more for this series–Phase Shift–which we'll begin writing over the summer.
So far, the series is getting really great reviews. We're hoping readers will enjoy the ride all the way to the end with us.