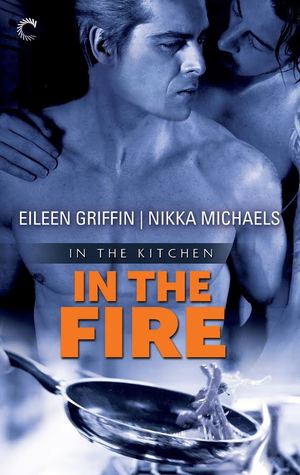 Holy angst, Batman! I read In the Fire in one sitting because I had to. I needed to know, from the second chapter forward, whether Ethan and Jamie were going to work it out—and if they didn't, I was going to book the first flight to Seattle, or maybe New York, and start banging heads together. Never mind that these characters are fictional.
It's been eight years since Jamie left for Paris and, apparently, it's been about that long since the boys have seen each other. While I absorbed that little nugget with all due sadness, I can't honestly say I was surprised. They were so young and both so hungry for success. The need for a "happy ever after" aside, I think they made the right decision in choosing their careers. Eight years later, the divide between them is wider than a coast to coast commute, however. And despite success in their separate careers, neither of them is overwhelmingly happy.
Some of that is due to the fact that they made the wrong decision in letting each other go all those years ago. But, in order to cross that divide, both men have to admit to a couple of truths. One, they're still in love. Two, a relationship takes two people—to fight and to admit fault. To break up and make up. It takes commitment. They've given it to their careers, now can they give it to each other?
Again, Nikka and Eileen deliver sizzling romance with a good supporting plot. Again, there is more at stake than two hearts. The restaurant Ethan has strived to make his own for eight long years is losing money, and Jamie's success as a cooking show host and cookbook author has taken him away from what he loves best. Both of them are on the cusp of that next stage in life. They're ready to make changes and more choices.
Mature Jamie is HOT. I had already ordered my Team Jamie t-shirt last book. Now I'm making sure it's always washed and ready to wear. Not that I don't love Ethan with all his prickles. He's just a bit harder to hug, you know? His growth is equally satisfying, however, and his patience with the young Tyler was lovely to see.
I would have liked to have seen more character growth on the page this time 'round as that was what made In the Raw such an amazing book. But the narrower focus on two men dealing with who and what they've become makes a compelling story. I don't think I'm giving anything away when I share the fact that this time, they do get what they want and deserve and that makes for a very happy ending.